We are excited to announce that Sun City Animal Hospital is now offering Orthopedic Surgery!
Please help us welcome our newest team member Michaelle Purdee DVM.
Dr. Purdee brings with her the extended knowledge of orthopedic surgery and now we are able to offer these additional surgeries;
Femoral Head Osteotomy (FHO)
Medial Patella Luxation (MPL)
Cranial Cruciate Ligament Repair (CCL)
Tibial Plateau Leveling Osteotomy (TPLO)
Fracture Repair and Bone Plating
Limping is a common ailment in dogs and can be caused by a number of reasons such as injury, infection, inflammation, anatomic defect, cancer, and degenerative diseases. The onset of lameness may be sudden (also known as acute) or chronic. Many of these problems can be alleviated with surgery.
We here at Sun City Animal Hospital are proud to offer the very best in patient care and are excited to be able to improve the quality of your dog's life by bringing Orthopedic Surgery to you.
Schedule your consult today with Dr. Purdee to evaluate your pet to see what treatment can be beneficial.
Welcome to Sun City Animal Hospital
Please call us today to check on your pet's vaccination status for leptospirosis. Newly diagnosed cases and outbreak in the Phoenix metro area may leave you and your pet at risk! 
Our Pet Annual Wellness Plans (PAW Plans) provides you with proactive care for your dog or cat at a discounted price. Visit our Annual Wellness Plans page to find out how signing up for a dog or cat wellness plan, can help keep your furry family member healthy and thriving.
Sun City Animal Hospital, located in Sun City, Arizona, is committed to providing quality veterinary care throughout the life of your dog or cat. As a full-service veterinary facility, our services are designed to assist in routine preventive care for young, healthy pets, and early detection and treatment of disease as your pet ages. We are proud to announce our membership as an accredited member of the American Animal Hospital Association (AAHA). Since 1974, we have regularly undergone inspection by AAHA to ensure our compliance with the association's high quality in standards of care. These standards cover nearly every aspect of our veterinary hospital, including surgery, pharmacy, laboratory, exam facilities, spaying and neutering, patient care, cleanliness, client services, diagnostic imaging and anesthesiology. Approximately 17 percent of animal hospitals in North America are accredited by AAHA, and we are honored to be members.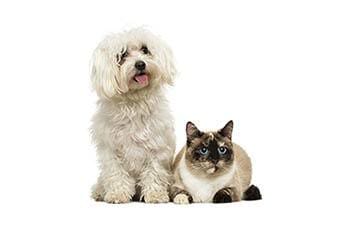 Services Available
Here at Sun City, we provide complete veterinary medical and surgical care as necessary during your pet's lifetime. Our on-site pharmacy allows for easy and quick access to necessary medications, as well as provides heartworm and flea-tick prevention. For our feline patients, we have provided a separate cat clinic to help keep them calm during their visit. In addition, our Pet Lodge is a full-service boarding kennel overseen by our veterinarians, which provides boarding, baths, nail trims, and other services unique to your pet.
What to Expect
If you are interested in entrusting us with the care of your beloved pet companion, give us a call today or schedule an appointment online. Feel free to browse our website for more information regarding our services and to become acquainted with our veterinary doctors and staff.